January 30th, 2015 by
JoAnne Bassett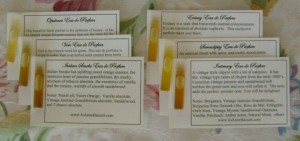 Warm for Winter Discovery Set
Put away your hot weather citrus and floral scents. Bring out your heavy scents with oud, amber, woods, resins and floral orientals for those crisp days and nights. After the Winter Solstice we have short days and cold nights…revel in the woods and deep parfums.
Try these winter scents in a 8 piece sample pack. It includes 1 ml glass vials of eau de parfums of Camille, Colette, Italian Smoke, Vert, Intimacy, Timeless, Venus Amber, and Sensual Embrace.
1. Camille – 
An earthy, iris aroma which turns quickly into a fruity, leathery osmanthus. The jasmine and tuberose are sheer and not too exotic with an amber base. It is a great floral and friendly for work environments. A Chypre style. Notes: Osmanthus, Iris Root from Italy, Mimosa, Tuberose, vintage Jasmine sambac, Lavender Seville, Galbanum, Ginger, Bergamot, and others
2. Colette – 
A gourmand with mushrooms and cognac. Great combo! Notes: Cepes and White Cognac from France, various citrus essences, and others
3. Intimacy – 
Intimacy is a very old vintage type chypre (like the original Coty Chypre of 1917) with oakmoss, Italian bergamot, vintage grandifolium jasmine, vintage Mysore sandalwood, vintage iris root, vanilla absolute, vintage patchouli, natural musk, labdanum, Bulgarian damask rose otto, Rose de Mai, balsam, others. 
The true oakmoss lover's consummate bliss
. Vintage is rich and voluptuous.  This is dark, deep, complex and alluring. 
Intimacy eau de parfum is a 2013 Indie FiFi nominee!
4. Italian Smoke – 
Italian Smoke eau de parfum is created from tobacco, neroli – orange blossoms, orange, vintage jasmine grandifolium, vanilla absolute, and vintage Mysore sandalwood. This is my impression of an Italian Gentleman. 
A golden tobacco note full of the Italian sun
5. Sensual Embrace – 
We all long for a sensual embrace. We yearn for a lover to hold us, to love us, and to accept us. This musky, sexy juice will fire up the lover within you. Your life will be forever changed and you will be held in an angelic breath of love. Sensual Embrace eau de perfume is a sultry, sexy musk 100% natural fragrance that sizzles with intrique. This stunning, mysterious, seductive blend captures the essence of a sensuous embrace. A unisex parfum. Notes: citrus notes clementine, floral notes of Rose de Mai oil – the May rose of France, vintage jasmine, tuberose, orange blossoms, musky notes of ambrette seed, amber accord, smoky notes of tobacco, sensuous woody notes of smooth vintage Mysore sandalwood, dark patchouli, and others.
6. Timeless –
It is an anointing oil with healing energy. Its purpose is to help you surrender.This incense, balsamic, and woody parfum contains vetiver, cassie, balsam fir, spikenard, frankincense, Egyptian damask rose, angelica, and others. Sixteen oils made their way into my bottle.
7. Venus Amber – 
There are 25 distinctly different essential oils and absolutes that comprise this natural perfume. It has a musky, spicy, amber accord. The soft powdery, dry down of the vanilla and benzoin gives way to the musky, ambrette seed and frankincense, cedarwood, cistus, and labdanum classic goodness. Bay rum plays with rosewood, sage, cinnamon, and cardamon…to create a spicy melange.  The citrus notes of bergamot, blood orange, lemon,and yuzu add that extra lift, zing, and sparkle. The wonderfully sensuous jasmine and rose de mai accord play with your heart. The other special oils form a bond that holds it all together.  Be touched by the love of Venus.  A unisex fragrance.
8. Vert – 
Vert is an herbal scent created from herbs from Provence. Marjoram, lavender, cypress, Bulgarian damask rose otto, vanilla, green mandarin, cistus, angelica, black currant, verbena, grapefruit, cocoa, balsam, others. 
Provençal paradise, plus cocoa.
8 Warm for Winter sample pack $30.00.  That means you get 10 samples for $30.00!
When you purchase fragrances on JoAnne Bassett:
Purchase $10.00 you get 1 free sample, spend $25.00 you get 2 free samples, spend $50.00 you get 3 free samples.
---