April 17th, 2015 by
JoAnne Bassett
Do you have a Mother you would love to honor on this special Mother's Day?  Do you know a Mother or do you have a daughter or daughter in law that you would like to honor? Perhaps you have a pet cat, dog, bird or other pet…(gold fish count) so you are in fact a Mother or caregiver.
Looking at some of my best selling botanical fragrances I am making a special offer.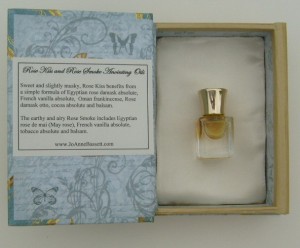 My coffret boxes with 2 ml perfumes in organic jojoba oil will be $50.00.  These glorious boxes have a silk pillow for the precious bottle to rest on.  They are available in these 4 scents and more. The photo shows 4 mls in the bottle.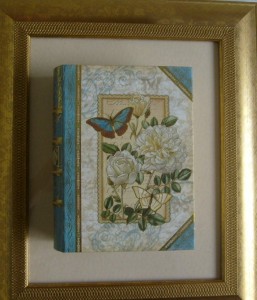 Indulgence – A one of a kind experience you give yourself. It opens your heart chakra and restores confidence.
Indulgence eau de perfume is a beautiful, feminine floral with subtle spicy overtones. A complex fragrance that has character and sophistication.
Oriental Floral – Top Notes: citrus notes of lime, blood orange, clementine, and high altitude French lavender Middle Notes: floral notes of cabbage rose otto, tuberose, neroli – orange blossoms, ylang ylang, palmarosa and spicy notes of nutmeg and cardamom Base Notes: frankincense, vintage Mysore sandalwood, and vanilla absolute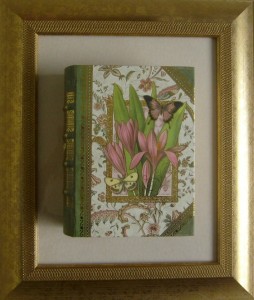 Josephine – a Spring and Summer scent just chosen one of ten fragrances for Spring by CaFleurebon.
A fresh, green light fragrance. Very joyful and uplifting.
Floral Green – Notes: Verbena, Lavender vera, Litsea, Green Mandarin, Bergamot, Cardamon, Star Aniseed, Ylang Ylang, rare Bulgarian Alba Rose Otto, Galbanum and others
Le Voyage – This delightful citrus burst will uplift and soothe. The rare, vintage Bulgarian alba (white) rose otto (the flower of light), vintage jasmine, linden blossom and vintage Mysore sandalwood accord will take you to a place of no return. Enjoy the journey.
A gorgeous floral. Le Voyage™ means the journey in French. The journey begins with a citrus burst and then warms into a lovely, vintage jasmine sambac, rare, vintage Bulgarian white rose otto, and vintage pink lotus hydro distilled oil heart. The dry down has a frankincense and rare, vintage Mysore sandalwood warmth.
Sensual Embrace – We all long for a sensual embrace. We yearn for a lover to hold us, to love us, and to accept us. This musky, sexy juice will fire up the lover within you. Sensual Embrace eau de perfume is a sultry, sexy musk 100% natural fragrance that sizzles with intrigue. This stunning, mysterious, seductive blend captures the essence of a sensuous embrace. A unisex parfum.
Floral – Notes: citrus notes clementine, floral notes of Rose de Mai oil – the May rose of France, vintage jasmine, tuberose, orange blossoms, musky notes of ambrette seed, amber accord, smoky notes of tobacco, sensuous woody notes of smooth vintage Mysore sandalwood, dark patchouli, and others.
Make your selection in the comments section. This is also available in the French Collection, Royal Collection  and Natural Parfums
Price $50.00
---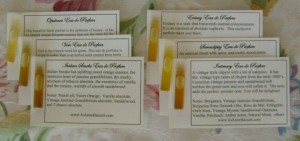 Spring Discovery Set
Put away your heavy scents with oud, amber, woods, resins and floral orientals.  After the Spring Equinox we have longer days and we can lighten up our fragrances.  A citrus, light floral or floral oriental for evening is what we want to reach for.
8
Spring Discovery Set sample pack
$30.00    
---
One of my best sellers are my travel sprayers.  They are available in eau de parfums. They are $30 and $40.

When you purchase fragrances on JoAnne Bassett:
Purchase $10.00 you get 1 free sample, spend $25.00 you get 2 free samples, spend $50.00 you get 3 free samples.
---