November 19th, 2019 by
JoAnne Bassett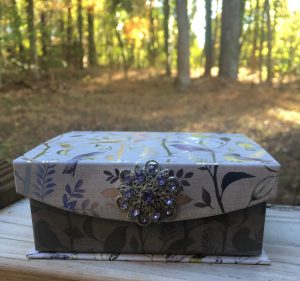 Take your power back.. be Sovereign over your own life!!  This Sovereign Collection is very powerful and I have sold more of these natural perfumes than I have any other collection.
These are beautiful and very energetic formulas in a beautiful silver foil gift box. The silver foil runs through the lid and you can see how it shines.. There is a magnetic clasp closure with a gorgeous amethyst color brooch. The base is a dark gray and is a good choice for both women and men.
I suggest anointing yourself with this perfume combination daily.  You can also reapply it.  Wear Bubble of Divine Love it on your solar plexus (lower belly) and spray Napoleon around you like a cape. It will give you confidence and make decisions from a place of power!
6 ml Bubble of Divine Love natural perfume in a 1 inch cube glass perfume bottle
This is serious protection in a bottle! Imagine enclosing yourself in a bubble of love and Divine light. Then include an additional layer of protection with frankincense.
This is a natural perfume that seals people in a bubble of love with the precious and costly Damask Rose. The palo santo will clear negative energies. It is a Spiritual shield in a bottle.
Notes: Sacred Frankincense from Oman, Damask rose absolute from Morocco, Cinnamon leaf, St. John's Wort, Geranium from Egypt, Palo Santo from Ecuador, and Orange Blossom absolute from Tunisia
5 ml Napoleon eau de perfume in a silver with silver dots travel sprayer
Stand in your power when you wear Napoleon Eau de Perfume. This aromatic fragrance is musky, deep, grounding and centering. Stand fully in your body grounded in the knowing of who you truly are! Become the leader of yourself, feel your own strength, claim your freedom, and live your best life now!
Notes: Juniper Berry, Helichrysum from Corsica, Bulgarian Tobacco, Rosemary Verbenon, Vetiver, Cedarwood, Cistus, Black Spruce, Myrrh, Lime, Vintage Jasmine Sambac, and others.
These 2 items are packaged in a special gift box with luxe leaves and bird and leaf designs with silver foil. The foil brings a glossy vibrance to each box, which also features a convenient magnetic flap closure with brooch embellishment.
Blow out price $97.00 until they are gone.  Hurry order yours today! 
Also on the same page look at the Sovereign Collection gift box with Perfect As I Am eau de perfume and Releasing Limiting Beliefs eau de perfume.  They are a great price now and less than 15 left…I love the formula for Perfect As I Am… Stock up on these now because they will be gone soon.. never to be seen again.
---