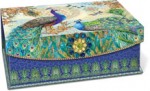 The Gift Box
Get the $30.00 value – 5 mls eau de perfume in the  travel sprayer and special gift box free! JoAnne Bassett natural perfumes.
1 ounce eau de parfum Natural Perfume choices:
Amazing – floral and citrus chypre
Camille – osmanthus and amber, chypre
Chantelle – white floral, jasmine, rose, tuberose
Colette – gourmand, cepes, cognac, citrus
Contessa – floral oriental, rose, neroli, jasmine, cinnamon
Josephine- fresh, crisp green, bergamot, green mandarin
Madame Pompadour – 39 floral and spicy essences
Magie d' Or – sparkling citrus and woods
Malmaison – Neroli, tuberose, Rose de Mai, amber, jasmine
Marie Antoinette – rose, neroli, champa, angelica
Napoleon – smoky sultry, leathery tobacco
Petit Trianon – oriental, neroli, ginger, spruce,ambrette
Versailles – patchouli, frankincense, floral citrus
See the Perfumes Past and Perfume Collections for descriptions of fragrances.
Choose your "1" favorite by listing your choice in the "MESSAGE TO SELLER" upon checkout.
Also your choice of gift box Peacock full feather spread, Peacock, Paris pink, Paris lavender or Lotus and butterfly box.
This beautiful box has gold foil in the pattern and a lovely jewel embellished brooch on the magnetized flap. French Vanilla Crinkle Paper Gift Basket Shred lines the box.
This box collection contains:
One 1 oz Eau de Parfum spray bottle and one 5 ml travel spray – royal blue with silver dots in a lovely box.
Price: $150.00
Save
Save
Save
Save
Save
Save
Save
Save
Save
Save
Save