March 31st, 2017 by
JoAnne Bassett
With the Spring Equinox already past, here at JoAnne Bassett Natural Perfumes we have decided to launch our Spring Discovery Set of Natural, Botanical Fragrances.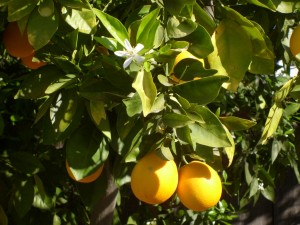 Nothing says Spring more than a burst of citrus. During Spring in Southern California there are citrus blooms exploding on the trees. There are sweet orange, lemon, grapefruit, tangerine, lime, and more.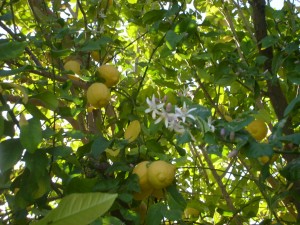 If you want to try out new fragrances but cannot decide what you want, I have put together a Spring Collection to make it easy for you.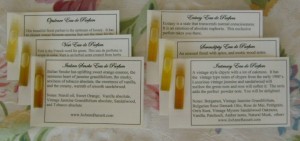 Spring Discovery Set
Put away your heavy scents with oud, amber, woods, resins and floral orientals. After the Spring Equinox we have longer days and we lighten up our fragrances. A citrus, light floral or floral oriental for evening is what we want to reach for.
Try these Spring scents in a 8 piece sample pack. It includes 1 ml glass vials of eau de parfums of Reveiller, Josephine, Sacred Elixir 333, Versailles, Petit Trianon, Sacred Frankincense 1, Temptress, and Ecstasy. Price $35.00.
With every $25.00 purchase at JoAnneBassett.com we give you 2 free samples! So for $35.00 you get 10 samples. That is $3.50 each!
1. Reveiller
means to awaken. Spray on this herbal renewal and feel your body come alive.  Citrus Aromatic – an herbal, fresh, and woodsy natural fragrance with the feel good St John's Wort essential oil. Lovely floral essences and woods combine to dance together. Try this joyful fragrance that helps with depression.
2. Josephine
A fresh, green light fragrance. Very joyful and uplifting. Floral Green Notes: Verbena, Lavender vera, Litsea, Green Mandarin, Bergamot, Cardamon, Star Aniseed, Ylang Ylang, rare Bulgarian Alba Rose Otto, Galbanum and others
3. Sacred 333 Elixir
: A beautiful  floral fragrance.  Notes – orange blossom, petitgrain bigarade, rose Maroc centifolia, ylang ylang, sandalwood, copaiba balsam, and beeswax absolute
4. Versailles
A gorgeous, sparkling bottle of citrus delight and spices. Men and women love this fantastic fragrance. Happy and uplifting. Citrus Aromatic Notes: Neroli, Tangerine, Lime,Pink Pepper Tree, Cinnamon Bark, St John's Wort, Frankincense, Patchouli, Benzoin, and others
5. Petit Trianon
Floral Green.  Notes: Orange Blossom absolute, Neroli, Ginger, Frankincense, Vintage Jasmine Sambac, Ambrette seed, Lavender Vera, Black Spruce and others
6. Sacred Frankincense 1
A mysterious, floral with notes of apricot and soft rose and linden blossom weaves her magic spell. Incense can be tender. Oriental Notes: Frankincense boswellia sacra hydrodistilled in Oman, Morocco rose absolute centifolia cabbage rose, elemi, Peru balsam, lavender hi altitude France, davana, yuzu, Roman chamomile, linden blossom absolute
7. Temptress
Temptress comes on strong, captures you, and leaves you wanting more Temptress perfume opens the heart chakra and balances female and male energies. Floral Fruity boasting damask rose from Egypt and vintage jasmine sambac and vintage jasmine grandifolium from India..she goes right to your senses. A calliope of scent fills your space and you are drawn in. Citrus notes of red mandarin and pink grapefruit sparkle and evolve into lavender, and spices of sage, celery seed, black pepper, and basil. To balance you, geranium roseum steps in and then you are tempted with sweet vanilla. With a green note and lemon verbena boosting the female rapture we are mesmerized. Frankincense and smooth, vintage patchouli does a sultry dance and you are left breathless.
8. Ecstasy
The feeling is overwhelmingly pastoral, a delight.  Floral Rare and exclusive vintage Bulgarian white rose otto the flower of light, vintage jasmine sambac, sweet orange, clary sage, red mandarin, wild lavender, vanilla absolute, balsam, and amber. This essence is a floral with a warm vanilla and balsam finish.
Spring Discovery Set $35.00
To purchase.
25 % off Etsy sale on now through April 16, 2017.  Go to my Etsy store to purchase for $26.25.
When you purchase fragrances on JoAnne Bassett:
Purchase $10.00 you get 1 free sample, spend $25.00 you get 2 free samples, spend $50.00 you get 3 free samples.
Save
Save
Save
Save
Save
---