June 6th, 2017 by
JoAnne Bassett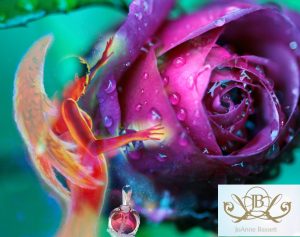 Cleopatra the Queen of Egypt knew of the powers of the rose.  She seduced Mark Antony with jasmine oil and rose petals. She was a woman depicted by historians and poets as a wanton temptress symbolizing "insatiable sexuality" and unlawful love. Rose oil is a powerful narcotic and you can be captured in her spell. The rose is the flower of love. The rich sensuality of the rose with its narcotic scent has an aphrodisiac effect.
Essential Oil – Rose oil – Rose Otto – it is gentle yet euphoric and one of the most costly essential oils
Spiritual Benefits: encourages devotion, inner vision, inner freedom
Emotional Benefits: eases the sorrow of the soul, brings harmony and comfort, happiness, acceptance, completeness, patience, love, sensuality
Physical Benefits: tonic, calming, balance hormones, relieve anxiety, improve depression, and naturally increase libido.
Natural Perfumes from JoAnne Bassett:
Luscious Roses parfum –
Floral – There are six different rose oils from four different countries. There are pink – cabbage roses, red – Bulgarian damask, and white – rare, vintage Bulgarian Alba roses. White rose otto is the "flower of light". Rose otto is a very treasured oil and is one of the most expensive. It is a very sensual parfum with rich vanilla absolute, dark and smooth vintage patchouli, lush tuberose, deep frankincense, powdery balsam, bergamot for lift, and others. This is a classic and full rose parfum. Wear it daily on your heart chakra for self love. It helps you to give and receive love.

An exquisite, hand blown glass perfume bottle with a beautiful, ruby red color houses the Luscious Roses parfum. The deep red color represents Bulgarian damask roses and houses this luscious, feminine, floral perfume.
Experience the amazing properties of this rare oil! Rose otto is featured in many JoAnne Bassett Natural Perfumes. The Limited Edition Collection eau de parfum sample pack of all 6 for $36.00 is available here.  Order yours today!
---