October 14th, 2015 by
JoAnne Bassett
We all know a woman who has had breast cancer…maybe it is your sister, best friend or yourself.  Cancer has touched my life and many members of my family. Some have given their life to it.
Pink items are representative of Breast Cancer Awareness Month. These are the pink items I am offering on a special for October.  To support the cause we are making a very special offer on our popular natural perfume gift box sets and donating to the cause. We will donate to the American Cancer Society with the sales of this special set this month.
These lovely pink travel sprayers are packaged in these lovely brooch gift boxes in the French Scene or the Lotus Flower and Butterfly.
Notice the amazing gold gild on the box. These very special boxes have a magnetic strip to keep them closed. You can store your treasures in these boxes.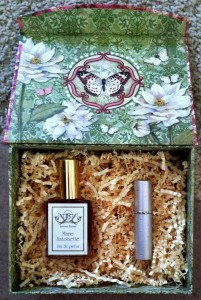 ---
Get the $30.00 travel sprayer and special gift box free!
1 ounce eau de perfume Natural Perfume choices:
Amazing – floral and citrus chypre
Camille – osmanthus and amber, chypre
Chantelle – white floral, jasmine, rose, tuberose
Colette – gourmand, cepes, cognac, citrus
Contessa – floral oriental, rose, neroli, jasmine, cinnamon
Josephine- fresh, crisp green, bergamot, green mandarin
Madame Pompadour – 39 floral and spicy essences
Magie d' Or – sparkling citrus and woods
Malmaison – Neroli, tuberose, Rose de Mai, amber, jasmine
Marie Antoinette – rose, neroli, champa, angelica
Napoleon – smoky sultry, leathery tobacco
Petit Trianon – oriental, neroli, ginger, spruce,ambrette
Versailles – patchouli, frankincense, floral citrus
See the Perfumes Past for descriptions of fragrances.
Choose your"1 favorite by listing your choice in the "MESSAGE TO SELLER" upon checkout. Also your choice of gift box in Paris pink or Lotus and Butterfly Box.
This beautiful box has gold foil in the pattern and a lovely jewel embellished brooch on the magnetized flap. French Vanilla Crinkle Paper Gift Basket Shred lines the box.
This box collection contains:
One 1 oz Eau de Perfume spray bottle and one 5 ml pink travel spray in a lovely box.
Price: $170.00  Now 15% off for Cancer Awareness month. A total savings of $55.50 and a free gift box!
Your price $145.50 until October 31, 2015.  This offer has expired.
---
---