September 18th, 2014 by
JoAnne Bassett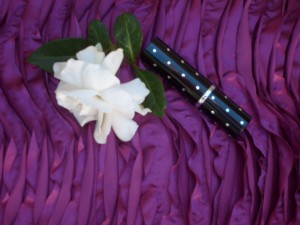 Do you like to refresh your fragrance during the day?  Do you need a reliable sprayer that does not leak or break?
This sprayer is a convenient, 5 ml black with silver dots metal atomizer.  A great way to carry your fragrance with you. This travel size spray has a glass bottle inside that can be refilled. The capacity of the glass bottle is 5 ml – 1/6 oz. Your travel size spray comes gift packaged in a black organza bag.  This elegant and luxurious sprayer looks great in your pocket or evening bag.  Put a few of these in your desk,  brief case, or gym bag so you are always ready to change your fragrance wardrobe along with your clothes!
They are available in all eau de toilette and eau de parfum scents. 100% natural perfume in an organic grape alcohol base. The eau de perfume fragrance concentration is French salon strength. All of the scents are for women and men.
I recently changed the prices on the travel sprayers.
Please see the individual pages for the:
French Collection   $30.00 each
Royal Collection   $30.00 each 
Natural Parfums and Eau de Toilettes   $30.00 each
The Limited Edition Collection   $40.00 each
The More Life Collection   $40.00 each
Royal Alchemy   $40.00 each
Luxury Natural Perfumes   $40.00 each
---