July 14th, 2016 by
JoAnne Bassett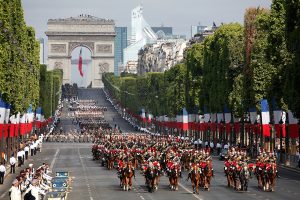 Having French – Paris origins on my Father's side..the Bassett name is a good reason for me to celebrate. I used to go to Paris and look in the Paris phone book and see pages of Bassetts and the French spelling Basset. In my genealogy are French royalty with kings and queens going all the way back to Charlemagne.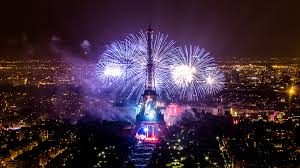 Being in Paris for Bastille Day is really a fun thing to do. The pomp and circumstance is amazing. The French really know how to put on a parade, fireworks, and wonderful French food is everywhere. Traditionally they served aioli – a garlic mayonaise with bread to the towns people on Bastille Day. It is a purge of parasites in the bodies using massive amounts of garlic.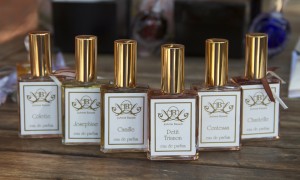 After being in France I created the French Collection of all natural perfumes and my Royal Collection of French historic places. These collections offer individual perfume samples, 2 ml sample sprayers, 5 ml travel sprayers, 1 oz -30 ml atomizers of eau de parfums, and parfums in coffrets and a 8 ml French flacon.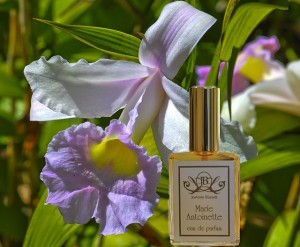 Marie Antoinette eau de parfum is the scent I choose to wear today to celebrate. This perfume is one of her precious potions. A favorite of my clients.
A lush, spicy floriental opens your heart chakra and turns on your sexy.
Oriental Floral Notes: Neroli, Tuberose, vintage rare Bulgarian White Rose Otto, Vintage Jasmine Sambac, Frankincense Noir, Holy Basil, Labdanum, Champa, Lavender, Rhododendron, Ylang Ylang, and others
Have a fun Bastille Day!? I may just watch my movie "Marie Antoinette" again. Beautiful scenes from the Palace of Versailles.
I also have a 20% off my whole ETSY shop until July 18. The Now price is already marked down 20%. Please go there now and celebrate the savings. My all natural perfumes have been compared to Guerlain perfumes from France back in the day.. the classic perfumes.
Save
---