The Magical Perfumes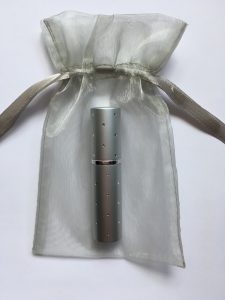 April custom eau de parfum

This powerful custom eau de parfum will be created with intention in my JoAnne Bassett Royal Perfume Facebook Group. Please join this group to be able to order it now. I will be on Facebook Live on Thursday, April 12 at noon choosing the essential oils for this natural perfume and performing an energetic activaton. You must join this group to receive the activation. This is a sacred space with intention. Please respect this energy exchange. 
This magical creation will be created on the New Moon on April 16.
This powerful magical eau de parfum will do what the intention we set for the April perfume. Experience this magic now. Apply with intention and say it out loud I AM… You can apply this as many times a day as you need.
5 ml eau de parfum in a silver with silver dots travel sprayer in a silver organdy bag. It will be available until they are sold out.  The custom for April  will all be pre – ordered.  Order them now for yourself and for gifts.  Mother's Day is coming.
Price: $50.00
---
I also have a collection of Sacred Alchemy perfumes you may be interested in at my Etsy store. I also have some essential oils for sale, supplies  and others not listed on this website. Sign up for my newsletter on the homepage to learn about new offerings and sales.