Oud oil – Oudh – Agarwood oil. We are talking pure oud…the real thing…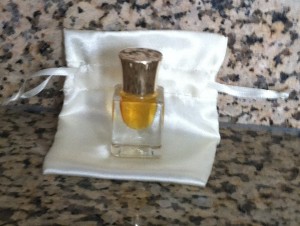 Call To Prayer Perfume
My Call To Prayer Perfume was birthed this Ramadan on July 8, 2015.  This precious perfume is a high vibration perfume with rose, frankincense and oud – agarwood in a base of organic jojoba oil.
Vintage Bulgarian white rose (alba) otto the "flower of light",  Vintage Rare Frankincense Oman, hydro distilled, Indian sandalwood and a combination of Cambodia and Thai wild oud – agarwood.
The general feeling is peace, meditation and reverence when applied.
3 ml Call To Prayer parfum in glass bottle in an ivory satin bag for $111.00.
Save