For over 20 years I have helped people get what they want. Yes that is right.. achieve those dreams, call in the one they have been searching for, release what is not working and what is not serving them.  My "magic potions" are the energetic miracle that keeps them coming back for more.
Some people call me the sage, the wise woman. I create 100% natural perfumes that can transform the whole body, emotional and Spiritual issues fall away to reveal this new empowered woman or man. One man called me to say his whole life had changed after he began wearing the perfume. He left his job, he left his wife of many years, filed for a divorce, and moved away. He now has a new happy life. Amazing all of that happened suddenly and there was no explanation other than he started wearing this potion.
What would you pay if you could wear this magical potion and shortly after your whole life changes?  My custom perfume solves your problems. The intention I set for your perfume is what you say you need.
What you are paying $1,000.00 is to transmute the old energy!  A life changing, alchemical perfume to transform and empower you!
What is it worth to you to summon your life partner, end your depression, reconnect with your inner child and create the life of your dreams?
No one else is doing this work!  I work at a very deep level, and have seen some amazing results from clients. This is so much more than a custom perfume that smells good. This is a very energetic perfume that I set intention for you with your Higher Self. I use my intuition, clairvoyance, and my innate wisdom from lifetimes of being a healer and perfumer to channel the perfume you need. This very high vibration process allows the Divine energy to flow through me and can take many hours to complete the process.
Don't let your dreams wait one more day. The love of your life is waiting for you. I am able to help you now!  All I need is your name and address and I can receive the information from your energy field.
My Custom Bespoke Parfums offer a 6th Dimension Attunement!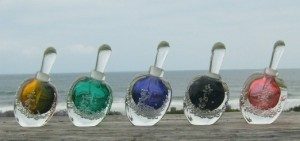 Custom Bespoke Parfum: A custom-made 1/2 oz. (15 ml) parfum in a glass bottle. A 4 inch tall, hand blown glass perfume bottle is included in a gold foil box with a creamy silk bag and pillow. It comes with a dauber to apply it. Rare, precious, and vintage essential oils and absolutes are the raw materials used. JoAnne uses a combination of Sacred Alchemy© and energy to create one-of-a-kind perfumes with life-changing properties.  I scan your name and address to create this perfume and send it to you. This bespoke perfume is available for International Shipping. I need no other information from you. I perform a ceremony and channel a quest, which is the instructions to achieve the goal. I record this quest and it will be sent as a video. I will also send a written message with the parfum. The video will be an activation and will transmit the energy to you and the parfum will be more effective. Activate your potential today!   I will choose the hand blown glass perfume bottle that resonates with you.
I am offering a 30 minute free consultation and we can discuss what is the focus for your Custom Perfume.  Please email to set this call up.
To read about:   Inner Child Custom Bespoke Parfum with Activation
Custom Perfume with Video Activation, a Channeled Document and Quest.
The specific results you will receive from this magical custom perfume is your intention which depends on which option you choose below, your DNA activation and life shift. It is instant transformation.
This is the price for the healing delivered by my magical custom perfume and a life shift. 
Price $3,333.00  Now $1,000.00    A limited time special offering.

My Custom Bespoke Parfum offerings:  
Summon Your Life Partner Now, Enhance your Relationship/Deeply Connect with your Partner, Inner Child Re Connection and Energy Clearing, Whole Body Transformation
Write your choice in the comments section.
Price $1,000.00  Email joanne@joannebassett.com  for a paypal invoice. Please list name, address, and the custom parfum you would like.
---
More Testimonials:  Jen Rode – Rode Institute: I recently received your magical potions, your amazing alchemy. You truly are so gifted, your work, your labor of love is amazing! I can feel that your perfumes are designed to anchor and realign frequencies to the 6th dimension.