January 18th, 2017 by
JoAnne Bassett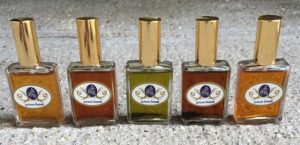 Very often people send me an email asking "Which natural perfumes are your musky ones?"
My response is please go to my Choosing A Scent tab on my website where I have broken out the main fragrance categories and sub categories.  This is also where I list the most often searched for fragrances like Musky, Oud, Animalic, etc.
My musky natural eau de parfums and parfums in organic jojoba oil are made from only natural sources and never synthetic chemicals from a laboratory.  The natural musks are from plants, and the animalic musks are from deer musk from deer, castoreum from beaver, and civet from civet cats. I am told these items are collected in a humane way.
My Sacred Elixir Collection of animalics contain the most musky fragrances.  That is deer musk is pretty strong and there is no doubt that the fragrance contains real deer musk.  Deer musk and civet has been used in fine fragrances for centuries. This century however most of the large fragrance houses are only using synthetic animalic notes.  An artisan house like myself can make a choice if I want to offer the real thing.  The answer is yes!
Please go to my Choosing a Scent tab and see what perfume in my JoAnne Bassett Natural Perfume Collections you will be amazed with.  I have over 60 natural, botanical fragrances and they are all organic fragrances.  Lucky for you!
---