September 30th, 2016 by
JoAnne Bassett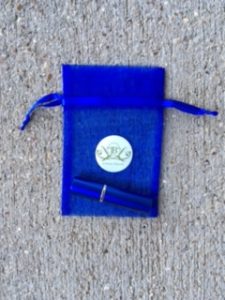 The Gourmet Collection of eau de perfumes – 100% natural botanical fragrances in organic grape alcohol base.  A collection of flavored coffee and tea fragrances.
Imagine yourself standing in line at a gourmet coffee or tea shop. There are coffees and teas from all over the world. Now imagine having any flavored syrup you want added to it. This is the introduction to the collection.
There are 5 specialty teas, 3 specialty coffees, and 2 specialty flavored syrups to add to them.
CHAI TEA – Fine black tea balanced with the sweet and savory spices of ginger, clove bud, cinnamon, cardamon, and wood base notes
ENGLISH BREAKFAST – Smooth, full bodied classic black tea with honey and a hint of clementine citrus and wood base notes
JASMINE TEA – Organic jasmine tea with extra jasmine grandifolium absolute from India and wood base notes
GREEN TEA – Organic green tea with extra lemon and wood base notes
EARL GREY TEA – Organic classic tea with extra bergamot from Italy and wood base notes
MOCHA COFFEE – Coffee from arabica beans that is rich and nutty, from Brazil with dark, rich cocoa absolute from France and wood base notes
ALMOND COFFEE – Coffee from arabica beans that has been cold pressed and strong from El Salvador with almond from Morocco and wood base notes
VANILLA COFFEE – Super roasted arabica beans from Venezuela with strong, dark vanilla absolute from France and wood base notes
BERGAMOT MINT – Green bergamot citrus scent with mint from the garden accented with pistachio nuts and wood base notes
COCONUT CLEMENTINE – Fresh coconut with fresh smelling clementine citrus and wood base notes
What can I get you today? These scents are meant to be layered… buy several to satisfy your curiosity! What topping would you like on your tea or coffee?
Natural Perfume Travel Sprayers go any where you want to go!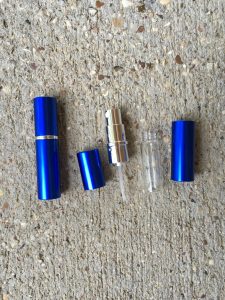 Convenient, unbreakable metal atomizers are a great way to carry your fragrance with you. These sprays have a glass bottle inside that can be refilled. Capacity of the glass bottle is 5 ml – 1/6 oz. These 5 ml sprayers are filled to 5 mls like the photo shows …they actually hold 6 mls.   A 5 ml Gourmet Collection fragrance in a royal blue travel sprayer with royal blue organza bag is $20.00.
This collection like the Sacred Alchemy Collection is only available on my ETSY store.
———————————————————————————————-
Natural fragrances are not like synthetic, commercial, department store fragrances. They will not last all day. You need to apply the fragrance to your skin or your clothing and re apply them as needed.
They can last from 4 to 8 hours or longer depending on the formula and your skin. For extreme self care I ask you to anoint yourself and reapply them. It is like giving yourself a blessing. The perfumes in organic jojoba oil have a higher concentration of the essential oils and absolutes so will last longer than the eau de perfume and eau de toilette in organic grape alcohol.
No synthetics, phthalates, parabens, isolates, or nature identicals.
They are cruelty free with no animal testing.
Do you need help CHOOSING A FRAGRANCE? Go to this information page. http://joannebassett.com/choosing-a-scent
Save
Save
Save
Save
Save
Save
Save
Save
Save
---