February 12th, 2015 by
JoAnne Bassett
Valentine's Day speaks to me of love….romantic love, self love …indulging in your parfum, and self care …anointing yourself with parfum ..putting rose otto on your heart to open and heal it.
These beautiful hand blown glass bottles are the perfect shape to hold in your hand for your self care.  Do you want to feel more beautiful, more sexy, more alive?  Try on some Temptress parfum.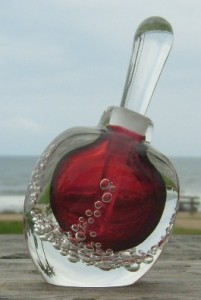 Do you want to feel love so deeply within yourself that you want to kiss everyone? You can bring about massive self love using my Luscious Roses parfum with 6 real roses ottos from 4 countries.  We are talking about expensive rose oil created from live rose petals.  Very indulgent and wonderful to adorn yourself with.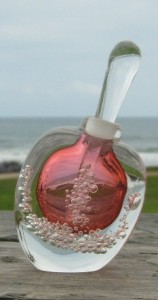 If you want to imagine yourself in your own Queen's palace I suggest wearing Opulence parfum. It doesn't get any better than this. With Neroli oil from orange blossoms for self esteem…it will raise you up and surround you with pleasure.
Do something special for yourself and your loved ones today!  Splurge on a bottle of natural perfume that makes you feel like the Queen you are!
If you prefer an eau de parfum in a spray bottle they are available also.  Go here to find your next high vibration fix.  www.JoAnneBassett.com
---