May 15th, 2015 by
JoAnne Bassett
The Leather Collection is my interpretation of leathers from around the world. They are natural perfumes in a base of organic golden jojoba oil and eau de parfums are in organic grape alcohol from wine grapes.
Arabian: This special leather combines oud and incense to create a fine leather that is timeless—attar of Oud Cambodia, frankincense carteri, frankincense freana, cedarwood, palo santo, cassie absolute
English: This unusual leather mixed with wood is a light variety that is easy to wear—copaiba balsam, benzoin, lavender wild France, guiacwood, incense cedar
Russian: A smoky leather that is rich and deep—birch tar, Bulgarian tobacco, cardamon, clary sage, St Johns wort
Spanish: The comforting smell of amber and leather is derived from the high quality cistus—Spanish sage – salvia lavendula, cistus, dark patchouli, ambrette seed, sandalwood
Tuscan: This sensuous leather is like a summer evening's drive in a Bugatti with leather seats and jasmine and orange blossoms in the air—cistus, wild orange, vintage jasmine grandifolium, Bulgarian tobacco, light patchouli
This tall hand blown glass bottle is 1 ounce and about 4 inches tall. The colors are: Arabian is black, English is deep aqua, Russian is royal blue, Spanish is emerald green, and Tuscan is deep purple.
The color scheme on this bottle is the Reflections perfume bottle.
Because this is a hand blown glass bottle created one at a time not made in a machine the size may vary. The elegant tapered dauber extends to the bottom of the bottle.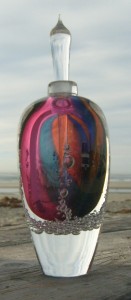 All 1/4 ounce perfumes come with this precious hand blown, glass bottle including a lovely, clear glass dauber to apply the perfume. Turning the dauber to the right locks the bottle and makes the seal airtight. The artist uses no molds, making each perfume bottle a unique handmade creation. Each piece is signed and dated and are collectibles. The parfum is packaged inside a gilt-edged "book box" lined with a plush creamy white silk pillow and enveloped in a creamy white silk bag. The parfum comes in a glass bottle.
---