July 27th, 2014 by
JoAnne Bassett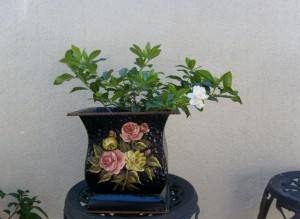 Blooming Gardenia flowers at JoAnne Bassett's patio means, I will be creating gardenia tincture in organic grape alcohol from wine grapes for eau de perfumes, gardenia infusion and maceration into organic jojoba oil for natural perfumes, and gardenia powder enfleurage into body powder.  It is so fragrant when I walk out onto the deck with the creamy smell of gardenia.  I have several varieties and some of them are brand new plants.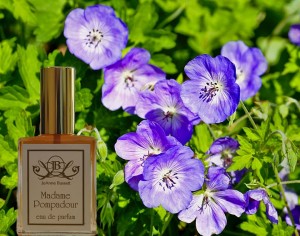 One of my natural botanical fragrances I use the gardenia in is Madame Pompadour from the Royal Collection. It is a luxury to experience the exquisite fragrance of 39 different essential oils, botanicals, and absolutes that are co mingled in this luscious romantic natural perfume.  I love that fragrance and so do my clients. It is available in this 5 ml travel sprayer that is great for your pocket, purse, brief case or desk.  The 1 oz spray bottle is great for the boudoir.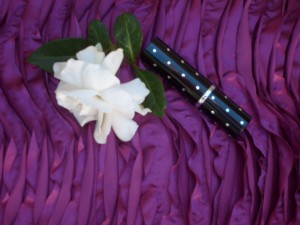 The sample sizes are great also for your purse so you can have an assortment of them for choices during the day and night.
Many florals, and citrus florals are available in my Natural Perfume Collections.  Also check out my Monthly Specials page for my Hot for Summer Discovery Set of samples on sale now.
---