May 27th, 2015 by
JoAnne Bassett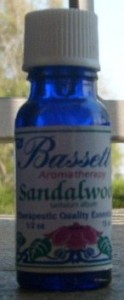 In 1993 I started my company Bassett Aromatherapy. From this photo you can see that Mysore Sandalwood was a regular offering in my line of essential oils.  I had wooden racks of oils that were sold to spas, and stores.  The individual essential oils were sold on my website AromaWorld.
Today marks an end of an era. For years I have been using my Vintage Mysore Sandalwood in my precious natural perfumes, eau de parfums, and eau de toilettes.  My Custom Bespoke clients reveled in it. I will reserve some of this precious oil for my Bespoke clients.
My perfumes that are in stock that contain Vintage Mysore Sandalwood will be sold.  When I go to create more I will use Mysore Sandalwood from the heart wood that I have in stock…not vintage.
If you appreciate the creamy, smooth and rich authentic East Indian Mysore sandalwood I suggest you purchase some of my stock perfumes.  I also am selling small quantities of the vintage oil. We will not be seeing any mature harvests of pure santalum album from the Mysore region for quite some time!
Looking at the prices online of 5 year old and 10 year old small vials of Mysore sandalwood I am amazed how I have been offering this rare and precious oil in my perfumes for years.
If you want to sample what real authentic vintage Mysore Sandalwood that is 16 years and older.  Today is your lucky day…Limited Supplies available.
1 ml in a amber glass bottle with a cone cap $150.00
---