February 17th, 2015 by
JoAnne Bassett
On the New Moon each month I choose to create Magic for my discerning clients. They insist on the finest ingredients, a one of a kind special Custom Couture Parfum just for them. My Gold Customs are created with my vintage essential oils and absolutes. These are rare and extremely precious, natural oils created from flowers and plants. You have never smelled any thing like them!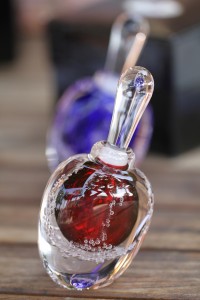 You deserve to have the very finest and most opulent perfume available. You know you want it and now.  Why wait 6 months or more to have a Perfumer in France or elsewhere create a perfume with synthetic oils that are created in a laboratory?  They also charge $50,000 or more for them. They may use some natural raw materials but they specialize in synthetic perfumes.
I am a Custom Couture Perfumer and Master Perfumer creating magnificent perfumes that can be ready to use in approximately 2 weeks. Why wait?
Order your perfume today!  The New Moon is tomorrow and this is a splendid way to begin this new cycle.
Send me an email or call me at 760.309.2571.  Please leave me a message if I don't answer.
---