March 20th, 2015 by
JoAnne Bassett

A refreshing spray of Le Voyage eau de toilette will take you on a journey. Float away on a cloud of citrus and revel in the white rose heart. Start your creative juices with the pink lotus hydro distilled essential oil…and dive deep. Frolic in the jasmine sambac and linden blossom. Play all out and then go inside yourself…with the frankincense and vintage Mysore sandalwood powder…softening. You will be transported!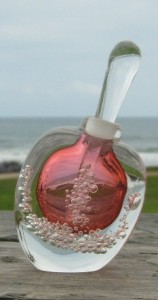 Do you love the smell of orange blossoms?  Walking under the trees when the sun is shining bright and the breeze picks up? It is heavenly. My Opulence parfum feels like that to me. Take the dauber and anoint yourself with a drop of this parfum… your reward is the immediate blossom of the neroli and orange blossom absolute.  It quickly morphs into a plethora of soft roses, moving through a distinct note of ambergris. The powdery dry down of the vintage Mysore sandalwood make you want to swoon. Be prepared to smile and melt into its floral goodness.
Floral – A beautiful floral created from neroli, Vintage Bulgarian white rose otto -"the flower of light", vintage Mysore sandalwood, orange blossom absolute, Bulgarian rose damask concrete, rare ambergris, and others.
If the parfum in organic jojoba oil is not your style…a spray of the Opulence eau de parfum will create a light cloud around you that will uplift you.  Enjoy!
Walk through fields of flowers with JoAnne's 100% natural perfumes.  You will be glad you did!
---