October 19th, 2014 by
JoAnne Bassett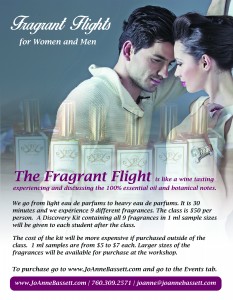 For those of you who are not able to attend the Fragrant Flights in Southern California  I will send you the kit of fragrances, blotters and information sheet. Also included are the 1 ml vials of eau de parfums for Feminine and Unisex and Masculine and Unisex Fragrance Flights.  Now you can purchase these kits and have your own party.  Let's get this party started!
"Fragrant Flights" for Women and Men
The Fragrant Flight is like a cognac tasting, experiencing and discussing the 100% essential oil and botanical notes. You go from light eau de parfums to heavy eau de parfums. It is 30 minutes and you experience 9 different fragrances.   A Discovery Kit containing all 9 fragrances in 1 ml sample sizes is what you will use for the flights.  This Discovery Sample Kit will be for feminine fragrances or unisex.  The cost of the kit will be more expensive if purchased as samples.  The 1 ml samples are from $5 to $7 each.
NO CHEAP AND TOXIC SYNTHETIC Fragrance Oils.
Fragrance Flight Kit For Feminine or Unisex
Price: $50.00     
Fragrance Flight Kit For Masculine or Unisex
Price: $50.00    
---