December 20th, 2014 by
JoAnne Bassett
Agarwood and oud fragrances have been all the rage for years.  A lot of people assume the oud being used in the niche brand is real and authentic oud from a tree.  That is not always the case.  Grant you some of the oud fragrances coming from the Middle East do contain real oud oil.
I sell oud oil and create my natural perfumes with oud oil.  And do you know what?  I have customers in Dubai and Oman and the region who purchase my oud natural perfumes with my authentic oud.  They are looking for high quality oud oil within a complex natural perfume.  Sounds like it should be easy to find…but it is not.
So why do you go looking for real oud in the designer brands when an artisan boutique company like myself has the real thing.
Please go now to my website oud page to see the oud for sale and the fragrances I offer with the real deal.  My 100% real oud perfumes come in eau de parfums and perfumes in organic jojoba oil.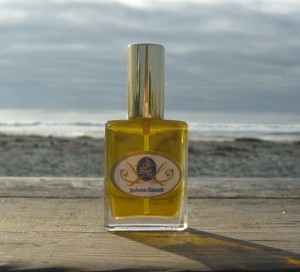 Sacred Frankincense 3 from the Royal Alchemy Collection
---