March 6th, 2014 by
JoAnne Bassett
Luxury Natural Perfumes is my new collection.  The first natural perfume in this collection is I Love You.
I LOVE YOU, is a soft and elegant perfume based on rose and gardenia scents. Exquisite Rose de Mai and precious Tiare (gardenia) absolute gives this 100 percent natural perfume a heady floral scent. I LOVE YOU is balanced with Italian bergamot, sensuous sandalwood and other "secret" botanicals. This modern and luxurious natural perfume is available in a hand-blown glass red bottle packaged inside a gilt-edged "book box" lined with a plush creamy white silk pillow and enveloped in a creamy white silk bag. It is also available in a 3 ml travel size glass bottle and a 5 ml parfum refill bottle.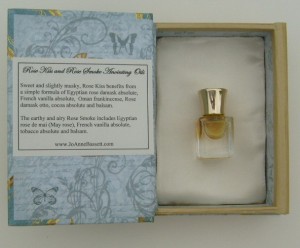 This hand blown glass bottle is a show stopper on your boudoir or dressing table. With a glass dauber to apply it you can anoint yourself like a Queen!  Say I Love You to yourself today!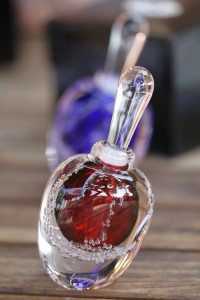 ---