November 21st, 2016 by
JoAnne Bassett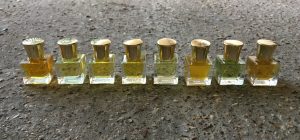 I created this new offering as it is much needed at this time in our "new" world.  It is a fabulous gift to yourself or your loved ones at this time of great energy shifts.
The 6th dimension is the mastery of the universal laws. You can potentially be empowered to become a Bodhisatva.  This custom perfume attunes your energy field to the sixth dimension and anchors the frequencies of the 6th Dimension. It is the holding of the higher dimensions in the physical. You become the master of your life!
All I need is a name and address to create this Custom Parfum using my sacred and precious oils. When the Bespoke Parfum is ready it will be mailed to you or your gift recipient.
Please allow 1 to 2 weeks for me to prepare and ship the custom perfume. This bespoke perfume is available for International Shipping.  Please email with any questions.
My client Jen Rode said about my custom perfume:  I can feel that your perfumes are designed to anchor and realign frequencies to the 6th dimension.
This all natural perfume is available in a 6 ml perfume bottle in a box.
There are also my regular Custom Bespoke Parfums and Perfume Potions that are one of a kind natural perfumes using the most expensive and rare and precious oils.
---