November 19th, 2015 by
JoAnne Bassett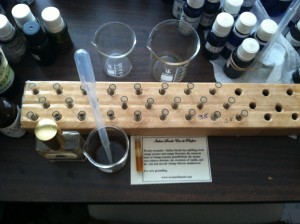 The life of a Natural Couture Perfumer isn't always as glamorous as you may think. The every day tasks of creating small batches of natural perfume and eau de perfume is ongoing.  I do everything by hand…no machines…As a Royal Alchemist I impart the magical energy that you feel when you apply it.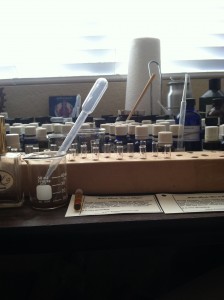 It is rewarding when you are able to smell the beautiful perfumes and then see them assembled in perfume vials.  These small glass vials are carefully attached to perfume cards that tell you the classification for the perfume and the notes included.  Often there is a hint of how the perfume may benefit you….perhaps it is grounding and centering.
Today I was creating sample vials of Italian Smoke eau de parfum from the More Life Collection.
The More Life Collection eau de perfume – Sampler Pack
The sampler pack includes six, 1 ml eau de perfume vials of the following: Ecstasy, Intimacy, Italian Smoke, Opulence, Serendipity, Vert eau de parfum is a 2013 Indie FiFi nominee   Sampler Pack of 6 Eau de Perfumes
The individual sample of Italian Smoke eau de perfume is available here.
Italian Smoke Eau de Perfume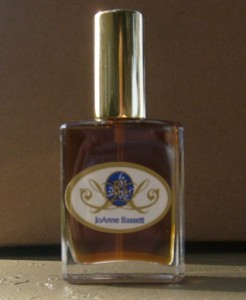 Woody Aromatic—Italian Smoke has uplifting sweet orange essence and orange blossoms, the sensuous heart of vintage jasmine grandifolium, the smoky, sexiness of tobacco absolute, the sweetness of vanilla, and the vintage Mysore sandalwood.  It is very grounding.
A golden tobacco note full of the Italian sun!
Guess what my scent of the day is?  You guessed it!  Italian Smoke eau de parfum.
---