April 23rd, 2015 by
JoAnne Bassett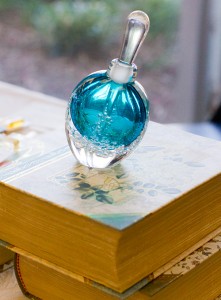 Some of my favorite things in my JoAnne Bassett Natural Perfume Collections are my hand blown glass bottles in very special boxes with my natural parfums.
My Limited Edition Collection contains six glorious natural perfumes to adorn your self with.  Enchant perfume is in the photo and the fragrance is very enchanting.  Using May Rose and oud, an amazing partnership develops.  Add to that the powdery sandalwood and leather apricot of osmanthus and we have a winner.
With the vanilla and musky notes..coming in to play…and the sensuous indoles of jasmine.. we are swept into a whirlwind of passion.  The rich vetiver and dark patchouli takes us into deeper longings and we beg for mercy!
Enchant is an Oriental Floral – Fabulous Rose de Mai absolute – the May Rose, expensive and rare oud or agarwood, sandalwood, exotic and costly osmanthus, sacred champaca, yuzu, orange essences, butter co2, musky ambrette seed, davana, pink peppercorn, and high altitude lavender, the green note of galbanum, sensual jasmine, vanilla, the dark and rich ruh khus vetiver, and dark patchouli in an organic jojoba oil base.  An extravagant perfume.
Don't forget to take a look at the other beautiful presentations in this collection of natural botanical fragrances.
Recent comments from my clients…these are wonderful creations…I like a lot of the scents, particularly the one that smells powdery and soft.
---