September 11th, 2014 by
JoAnne Bassett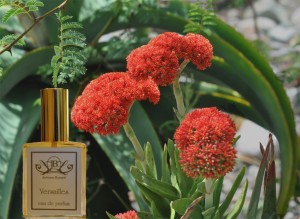 Being a natural perfumer I wear scent every day…sometimes I apply a different scent over the first one. That is called layering. I do it until I get the desired effect that pleases me.  Did you read that..that pleases me.
I wear scents both for myself, clients, friends, and others.  Do you have a wife, husband, partner or lover that comments how great you smell and they lean in to smell you deeper? Isn't it great when you get a compliment at work or play …they say you really smell fab. What scent are you wearing and where can I get some?
Often I apply another natural perfume after I take a bath or am going to go out for the evening.  Then I choose another scent from my wardrobe…yes we have scent wardrobes.  Scents are just as important as clothes if not more so.
The benefits you receive from natural perfumes are the aromatherapy benefits of the essential oils.  I am also a certified aromatherapist and fragrance therapist so I know how to create uplifting, grounding, centering, peaceful, joyful scents, and more. What benefits do you want to receive when you wear your scent? That is what is great about 100% natural fragrances created from botanicals. NO nature identicals, no isolates, no synthetic toxic chemicals that were created in a laboratory that give you a headache or a migraine for 2 days. Using essential oils, absolutes, tinctures, and macerations of plant material you can receive the plant energy.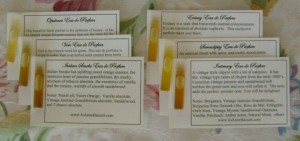 I invite you to try some samples from my luxury collections.  They are available as a single sample on the collection pages or as sample sets. Eau de toilettes, eau de parfums, and parfums are available.
Try some new fragrances for fall…live a little…expand your horizons.
---