June 30th, 2015 by
JoAnne Bassett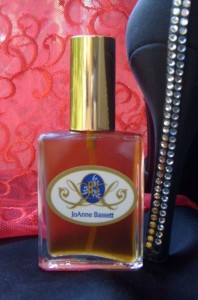 Joseph Sagona wrote: SOTD Sensual Embrace EDP by JoAnne Bassett (Sample) New (Review) this is classified as a Floral, the notes are Jasmine, African Orange Flower, Tuberose, Sandalwood, Patchouli, Amber, Clementine, Tobacco, Rose and Ambrette (musk mallow).
I get the clementine, rose, tobacco, tuberose, patchouli and amber, it starts off with some clementine and tuberose, making it sweet, juicy and creamy, the clementine is strong, the tuberose is mild.
The opening of Sensual Embrace is quite beautiful, especially the clementine note, tuberose in most fragrances I have experienced is usually very heady and almost has a meat smell, in this it is blended perfectly.
Then after about thirty minutes the clementine dissipates, the tuberose softens and remains, in comes he rose and tobacco, making it dry, fresh and a touch soapy, the tobacco is mild, the rose is soft.
Then after about two hours the tuberose dissipates along with the rose in comes the patchouli and amber, making it green, earthy and a touch powdery, when the fragrance develops to this point I get a soft honey smell that lasts about thirty minutes.
Sensual Embrace reminds me of Histoires de Parfums Tubereuse 3 Animale and House Of Cherry Bomb Tuberose Tobacco, Tubereuse 3 Animale is sweeter and softer, Tuberose Tobacco comes off boozy and much more musky, they all have similar floral and tobacco notes.
What I love most about Sensual Embrace is that with those mix of notes you would think the fragrance would be very haphazard, not at all, it's very smooth.
This is a really strong yet soft, citrusy, smoky, complex, with soft woody, animalic and musky undertones Floral fragrance, this is unisex but leans more towards the feminine side, great for ages twenty five and above.
This would can be worn all year 'round, it would be perfect for the fall and winter, I get good projection and average longevity, this is another winner for me, great fragrance JoAnne Bassett,  4/5 Stars
You can purchase this in a 1 ML sample for $6.00, 30 ML spray for $170.00, a travel size spray for $30.00 and a 1/4 oz in jojoba oil in a French Flacon for $200.00.
---