July 2nd, 2015 by
JoAnne Bassett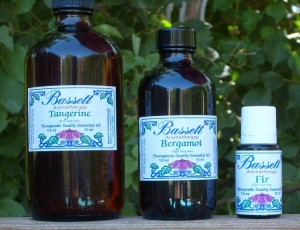 This is my old Bassett Aromatherapy labels and bottles I used when I started that company in 1993.
I am selling some rare and precious essential oils and absolutes from my stock.
They are very high quality and amazing!
Vintage oils and absolutes in very limited quantities!
Vintage Rare Mysore Sandalwood oil from 1999 – 2 mls $150.00
Vintage Rare Frankincense Indian, hydro distilled 2001- 1/2 oz $200.00, 1/4 oz $100.00, 1/8 oz $50.00
Rare Vintage 2000 St Johns Wort hydrodistilled Himalayas, very energetic healer 1/2 oz $300, 1 oz $600, 2 oz $1,200, 4 oz $2,400.
Rare Vintage 2000 jasmine sambac absolute India no hexane they used food grade sugar cane to process..very mellow and beautiful 1/2 oz $225, 1 oz $450.
Rare Vintage white champa leaf and flower – michelia alba 2008 China 1 oz $150. 4 oz $600
Email to order these and I will send a paypal invoice. I ship worldwide so tell me where it will be shipping to.
---