Custom Bespoke Perfumes and Custom Perfume Potions
I have created Custom Bespoke Perfumes for over 23 years. People are always asking me "How did you know that I love jasmine" I read your energy field and receive the information I need to make your perfume that you will love! I have a sixth sense.
There are two ways I work:
 1. I create a luxury perfume that is purely for your enjoyment! You love to wear it and feel very special doing so. It is your exclusive signature scent…no one else on the planet has one like this. It makes you feel confident and beautiful.
2. I create a bespoke perfume that will help you raise your vibration or energy, it helps removes the blocks that hold you stuck where you are, it can potentially ease any physical or emotional problems.
My Bespoke Custom parfums hold the key to your future! It can potentially remove all blocks to your success!
 My custom parfums shift energy for individuals who want to be on the
"fast track"
. They can live full out, fully expressing and living their life purpose. We can set the intention that the changes happen gently with ease and grace. It does not need to be difficult.   I don't know anyone making natural perfumes with
life changing
properties!
Order yours today!  Your new life is waiting for you!
I give people their lives back! Support and Powerful Transformations! 
Provides the solution you are looking for! My custom parfums transmute energy. 
Nothing changes until we do!
Restore Passion, Prosperity, and Power in Your Life!
For more than 23 years I have been assisting women and men with their process. The results have been phenomenal! I have many testimonials and have watched people evolve and rapidly shift their lives. Bespoke Perfumes are one of a kind perfumes that work with a persons energy to help them to be the best they can be! If you would like help opening up to all you can be give me a call today! This is my service to the world.
My phone number is 760.309.2571. You do not have to be in Texas. These custom natural perfumes are just that. 100% natural perfumes that have rare and precious rose otto, vintage jasmine, vintage sandalwood, and many precious oils that resonate with your energy.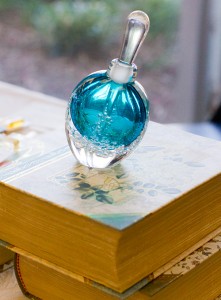 Custom Bespoke Parfum: The creme de la creme! A custom-made 1/2 oz. (15 ml) parfum in a blue bottle. A 4 inch tall, hand blown glass perfume bottle is included in a gold foil box with a creamy silk bag and pillow. It comes with a dauber to apply it. Rare, precious, and vintage essential oils and absolutes are the raw materials used. JoAnne uses a combination of Sacred Alchemy© and energy to create one-of-a-kind perfumes with magical significance and life-changing properties.  Many perfumes have been created only with your name and address. This bespoke perfume is available for International Shipping.
Price $5,000.00   
Save
Save
Save
Save
Save
Save
Save
Save
Save
Save
Save
Save
Save
Save
Save